This is an archived article and the information in the article may be outdated. Please look at the time stamp on the story to see when it was last updated.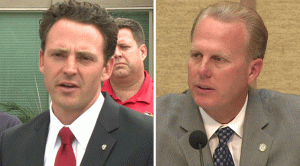 SAN DIEGO — City Councilman Kevin Faulconer has surpassed former Assemblyman Nathan Fletcher to take the lead in the race to be the city's next mayor, according to the results of a U-T San Diego/10News poll released Sunday.
In the poll conducted by SurveyUSA, 700 registered voters were asked which candidate they would vote for if the Nov. 19 special election were today, to which 41 percent indicated they would vote for Faulconer and 28 percent for Fletcher, it was reported.
City Councilman David Alvarez came in third with 17 percent, followed by former City Attorney Mike Aguirre with 7 percent, according to 10 News and U- T San Diego. Four percent of respondents were undecided and 3 percent indicate they would vote for another candidate.
The previous U-T San Diego/10News poll released last month showed Fletcher with 32 percent of the vote, followed by Faulconer with 28 percent, Alvarez with 17 percent and Aguirre with 8 percent.
If Faulconer and Fletcher were running head-to-head, 46 percent of those polled said they would choose the councilman, compared to 41 percent who indicated they would support the ex-assemblyman, according to the U-T San Diego/10News poll.
Faulconer was also leading among those who have already voted, 10News reported.
If no candidate garners more than 50 percent of the votes in the special election, the top two will advance to a runoff to be held early next year. The eventual winner will finish out former Mayor Bob Filner's term.