This is an archived article and the information in the article may be outdated. Please look at the time stamp on the story to see when it was last updated.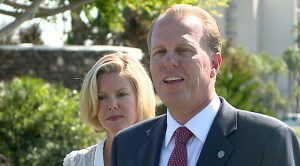 SAN DIEGO (CNS) – City Councilman Kevin Faulconer, who is running for mayor, and his wife, Katherine, want the city's millennials to get involved in the mayor's race and launched a campaign video contest Friday for those under 25.
The couple asked San Diegans 25 and younger to submit a "positive homemade campaign ad" promoting Faulconer for mayor. A panel will pick the winning video, which will be broadcast on local television stations.
"Public service often gets a bad name and San Diego has certainly seen its share of that lately. This can discourage the next generation and keep them on the sidelines," the Faulconers said in a statement. "We want to help change that. We want younger San Diegans to participate in our city's future."
Faulconer in a video announcing the contest said the ads should focus on the city's future and why he should be the next mayor.
The videos must be 25 seconds or less and produced by a San Diego resident under 25 years old. They can be submitted to contest@kevinfauloner.com.
The deadline for submissions is Nov. 2.