This is an archived article and the information in the article may be outdated. Please look at the time stamp on the story to see when it was last updated.
SAN DIEGO — Mayor Kevin Faulconer announced Wednesday that he will hold a series of public meetings with San Diegans in each of the nine City Council districts.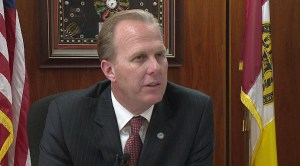 The first "Meet the Mayor" session will be Thursday evening in Clairemont, part of the 6th Council District represented by Lorie Zapf.
Faulconer will speak about his vision for the city, listen to concerns and take questions from the audience.
"The best way to run the city is to hear directly from the people you serve," Faulconer said. "I want to talk with community leaders and everyday San Diegans about what the city can do to make their lives and neighborhoods better. I know how busy people are so I plan to take the conversation to them."
The inaugural meeting is set for 5 p.m. at the South Clairemont Recreation Center at 3605 Clairemont Drive.
After all nine council districts are covered, the gatherings will continue to be held in various neighborhoods, according to the mayor's office.