This is an archived article and the information in the article may be outdated. Please look at the time stamp on the story to see when it was last updated.
MONTECITO, Calif. — The father and brother of the 14-year-old girl, who was rescued from the rubble after her home collapsed, were still missing two days after the mudslides in Montecito, California, according to a family friend.
Lauren Cantin was coated head to foot in mud, was led by firefighters from a pile of wood and debris that was once a house on Tuesday, a photo from Santa Barbara County Fire Department showed.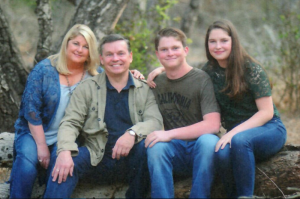 A friend of the Cantin's family explained that Lauren's father Dave and her 16-year-old brother Jack were still missing.
"Kim Cantin and her family were horribly impacted by this storm. We are sorry to report that her house was completely washed away and more heartbreak is that her husband Dave and her 16-year old son Jack are still missing. Thankfully her 14-year old daughter was rescued by firefighters on January 9th.  We are working with the local community to offer as much support to Kim and her family as quickly as possible," according to the GoFundMe page.
#CAstorm– Firefighters successfully rescued a 14 yr old girl (right) after she was trapped for hours inside a destroyed home in Montecito. pic.twitter.com/QawiGpYbWu

— SBCFireInfo (@EliasonMike) January 9, 2018
California mudslide survivors recall when the 'mud came in an instant'
Ben Hyatt rushed to wake everyone up when rivers of mud started banging the doors and walls of his home.
"Seemed like just heavy rain," he said. "Five minutes later, (I) heard (a) loud whish sound. Mud came in an instant, like a dam breaking."
Hyatt and other residents are recalling the chaos that ensued as Tuesday's deadly mudslides and flooding devastated parts of Southern California. Hundreds of rescuers and dogs still were searching for people Thursday.
San Diego search and rescue team deployed to Santa Barbara Wednesday.
They heard a 'deep rumbling' sound
Heavy rain and a "deep rumbling" sound preceded the massive amounts of mud that blanketed miles and killed at least 17 people.
When the rain began drenching the area, Hyatt decided to stay up late to "keep an eye on things." Shortly, he would be moving furniture around to keep the mud from getting into his home.
Streets were like rapids, and in minutes cars began moving sideways, disappearing underneath the mud and crashing into homes.
Josie Gower held onto a door frame when a devastating river of mud rushed inside her Montecito home.
The 69-year-old woman and her boyfriend were at home Tuesday when the mudslide swept through the neighborhood.
"For some reason, she opened the front door" and was swept away, Diane Brewer, one of Gower's friends, told CNN.
Gower is among those who have been reported dead in Santa Barbara County, Brewer said. More than a dozen people remain unaccounted for, authorities said.
Families rushed to escape the raging mudflow
"We ran into the house and right then the boulders busted through the house," Berkeley "Augie" Johnson told KSBY.
The muddy water was not slowly leaking into homes like rainfall does — it came in slamming.
As Johnson and his family ran up to the second level of their home, about 8 to 9 feet of mud followed them closely. With nowhere to go, they crawled out of a window to reach the roof, he said.
This slideshow requires JavaScript.
Children and babies were pulled from the mud
The mud and debris overwhelmed many homes and wiped some of them out.
Johnson pulled a baby submerged in about 4 feet of mud, KSBY reported.
"We don't know where it came from but we got it out, took the mud out of his mouth. I hope that's OK," he said.
In Carpinteria, near Montecito, a US Coast Guard helicopter crew plucked a family of five, including a newborn, from the roof of a house where mud had flooded the first floor.
The destruction was everywhere
Peter Hartmann said power lines were down and aluminum poles were snapped in half. The water was flowing out of water mains and coming from fire hydrants.
"There were gas mains that had popped, where you could hear the hissing," Hartmann told CNN affiliate KCAL.