This is an archived article and the information in the article may be outdated. Please look at the time stamp on the story to see when it was last updated.
OCEANSIDE, Calif. — A 75-year-old woman was killed and an 80-year-old man seriously injured Monday when a van plowed into a stalled box truck on Interstate 5 in the far northern reaches of San Diego County.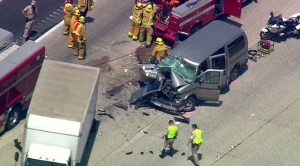 The San Juan Capistrano residents were headed south near the decommissioned San Onofre Nuclear Generating Station shortly after 10 a.m. when they encountered the stationary cargo vehicle, which had warning reflectors set out behind it, according to the California Highway Patrol.
The man swerved the 2004 Chevrolet van to the left but was unable to steer clear of the truck. His passenger, believed to be his wife, died at the scene, CHP public-affairs Officer Jim Bettencourt said, and the driver was airlifted to Scripps Memorial Hospital La Jolla. Their names were withheld pending family notification.
The driver of the truck, a 51-year-old Gardena man, was unharmed. He told investigators that a transmission malfunction had left the commercial vehicle broken down on the freeway, Bettencourt said.
Three dogs in the van were unharmed and were turned over to animal- control personnel.
The wreckage and emergency vehicles left three of four southbound lanes blocked in the area for a time. Traffic remained gridlocked for miles to the north at midday.
All lanes were open again and traffic back to free flow by 2 p.m., the CHP reported.