This is an archived article and the information in the article may be outdated. Please look at the time stamp on the story to see when it was last updated.
SAN DIEGO — The San Diego Chargers held their first training camp practice for the 2014 season Thursday at Chargers Park, with 88 players expected to participate in a planned two-hour, 10-minute practice, which is open to the general public.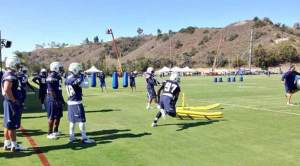 The gates at Chargers Park at 4020 Murphy Canyon Road will open at 8:20 a.m. The practice will be conducted from 9:20-11:30 a.m.
In their first season under coach Mike McCoy, the Chargers were 9-7 in 2013, winning their final four regular-season games to make the playoffs for the first time since 2009. Nate Davis of USA Today Sports projects the Chargers to be 8-8 this season and miss the playoffs.
"Last year's schedule allowed late-season charge," Davis wrote. "This year's could easily produce late-season slide."
The keys to the Chargers' hopes for success in 2014 include avoiding injuries to quarterback Phillip Rivers and their offensive line, Bill Cowher, an analyst on CBS' "The NFL Today," told City News Service.
"The offensive line was huge last year," said Cowher, who coached the Pittsburgh Steelers for 15 seasons, including guiding them to the victory in Super Bowl XL. "They kept him upright. If they stay healthy, I think they'll be good."
The start of the season "will be very big" for the Chargers as they seek to repeat the momentum and continue having the mentality and culture developed last season, according to Cowher.
"I think they can create the same type of confidence they ended the season with," Cowher said.
NBC "Sunday Night Football" sideline reporter Michele Tafoya said, "I always think the Chargers can be good because I think Phillip Rivers is a fabulous quarterback and a great leader."
The Chargers will begin preseason play Aug. 7 when they play host to the Dallas Cowboys at Qualcomm Stadium. They will begin the regular season Sept. 8 by playing at Arizona in a Monday night game.
Their regular-season home opener will be Sept. 14 against the Super Bowl champion Seattle Seahawks.
The Chargers will conduct nine other practices open to the general public, including on Friday (2:50-5 p.m.), Saturday (9:20-11:30 a.m.) and Sunday (2:50-5 p.m.) — all at Chargers Park. Parking and admission to all training camp practices at Chargers Park are free.
On weekdays, parking is available only on Murphy Canyon Road. For weekend practices, fans will be allowed to park on Murphy Canyon Road as well as in the Kearny Mesa Business Center, located just south of Chargers Park.
Bleacher seating will be available. Fans are welcome to bring folding chairs to sit on the pavement surrounding the practice fields. Fans can bring their own food, water and soft drinks. But cigarettes and alcoholic beverages are not allowed at Chargers Park at any time.
Hot and cold food, snacks, bottled water and soft drinks will be available for purchase. The Chargers Team Store will have a mobile location selling the latest team merchandise and apparel will be available.
The Charger Girls will make special appearances during training camp practices.
Fans may bring personal cameras, but video cameras and telephoto lenses longer than six inches — detachable or non-detachable — are not allowed.
Other items not permitted at Chargers Park during training camp include pets (other than service dogs), weapons, chains, stun guns, mace and pepper spray, water guns, fireworks, Frisbees, sports balls, beach balls or other inflatable objects, laser pointers, flammable objects, musical instruments or noise making devices.
The Chargers other practices at Chargers Park open to the general public will be held:
July 31 (9:20-11:30 a.m.);
Aug. 4 (2:50-5 p.m.);
Aug. 11 (2:50-5 p.m.); and
Aug. 12 (9:20-11:30 a.m.).
The Chargers will hold their annual FanFest at Qualcomm Stadium Aug. 2. Practices Wednesday and Aug. 1 at Chargers Park are open to season ticket holders only.
Gates to Chargers Park will open one hour before the start of each practice.