This is an archived article and the information in the article may be outdated. Please look at the time stamp on the story to see when it was last updated.
CARLSBAD, Calif. – A family returned to their Carlsbad home to find it completely destroyed by a wildfire Wednesday, but all they were doing was smiling.
Anya Bannash's family was evacuated from their Carlsbad home on the 5900 block of Black Rail Road Wednesday morning after a wildfire tore through the canyons.
Fox 5's cameras were rolling as the fire torched the two-story home.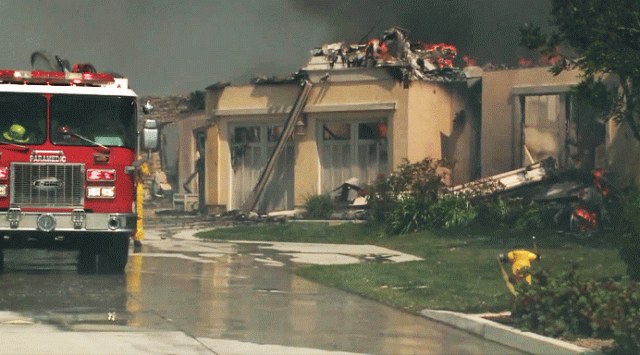 When Bannash's family was allowed to return to the neighborhood in the afternoon and they stood watching the remaining structure smoldering – to their surprise -, their dog "Rocky" came running out from bushes and into their arms.
"[Our house is full of] materials we can eventually get again, but as far as our family and pets – you can't just come up with another Rocky or family," Rocky's owner told Fox5.
Rocky suffered burns to his backside.
Family came back to their burned home hoping to find Rocky. They did. @fox5sandiego pic.twitter.com/q1AN7CXV2x

— Christian De La Rosa (@ChristianWplg) May 15, 2014
RELATED STORIES:
VIDEO: Firefighters battle to save homes in Carlsbad
Dozens of school districts are closed Thursday
RAW VIDEO: Fire tornado twirls on hilltop