This is an archived article and the information in the article may be outdated. Please look at the time stamp on the story to see when it was last updated.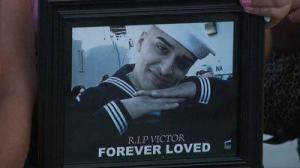 SAN DIEGO – A family of a Navy sailor allegedly shot to death by his ex-girlfriend in his Imperial Beach apartment said Wednesday the shooting could have been prevented if police did something about her repeated attempts at stalking him.
A candlelight vigil was held Wednesday for 30-year-old Victor Saucedo, who was shot repeatedly Tuesday afternoon at his apartment on the 300 block of Caspian Way in Imperial Beach.
"The ex-girlfriend killed my dad last night," said 6-year-old Jeremiah Saucedo.
He was referring to 24-year-old Vegas Battalya Bray, who was arrested early Wednesday morning and booked on suspicion of murder.
"The police didn't do a thing to help him," said Stephanie Stratton, the maternal grandmother of Saucedo's son.  "It was wrong!"
Stratton said Saucedo tried to get help from police on numerous occasions because Bray stalked him over and over.
"She punctured his car. She flattened his tire," said Stratton.  "She came to the house. She egged him in the middle of the night, threw bottles at the door and almost hit my grandson," she said. "Now, this child has to grow up without his father in his life.  That is the saddest thing when you wake up in the morning and tell him that his daddy is not going to pick him up."
Victor's parents arrived in San Diego from Chicago Wednesday night to make plans for his burial.