This is an archived article and the information in the article may be outdated. Please look at the time stamp on the story to see when it was last updated.
CAMP PENDLETON, Calif. – A training obstacle at Camp Pendleton was renamed Thursday in honor the legacy of a Silver Star recipient who was killed in Afghanistan.
Marine Corps Recruit Depot San Diego's Weapons and Field Training Battalion held a Crucible event dedication ceremony to rename an obstacle in honor of Silver Star recipient Cpl. Larry D. Harris Jr., who was killed in action during Operation Enduring Freedom.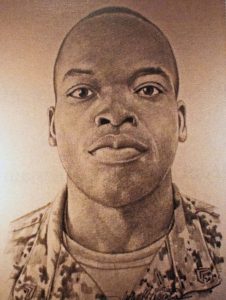 "Renaming the Crucible's Counter-IED training station further commended the actions taken by Harris, who embodied the Marine Corps core values of honor, courage and commitment, and ensure his sacrifice and legacy will continue to be taught to future generations of Marines for years to come," said the Marine Corps Recruit Depot in a statement.
The event took place on Edson Range at Marine Corps Base Camp Pendleton.
"It was like a wow moment for me and it made me very proud of Larry," said Lora Smith-Merriweather, Harris' mother.
Corporal Harris was killed in action on July 1, 2010 while rendering aid to a fellow Marine wounded during operations in Helmand Province, Afghanistan.
While under heavy enemy fire, Harris left a protected area to carry the Marine to a medical evacuation site when he triggered an IED.
The explosion mortally wounded Harris, but he ultimately saved the life of his team member.
Harris is the only Marine from Operation Enduring Freedom to have a dedicated obstacle at the base.
"I think about him every day, but to know that thousands of people will think about him every year is crazy to me," said Stacia Harris, Larry's widow.