This is an archived article and the information in the article may be outdated. Please look at the time stamp on the story to see when it was last updated.
VISTA, Calif. — A 19-year-old Fallbrook woman accused of driving under the influence during a collision that killed a cyclist wiped away tears during her arraignment in a Vista courtroom Thursday.
Sulem Garcia, 19, pleaded not guilty to charges of driving under the influence of drugs and vehicular manslaughter. The fatal crash happened Tuesday afternoon in the Pala Mesa area on Old Highway 395 south of Pala Mesa Drive.
"Witnesses saw her car swerve off the roadway, strike the bicyclist and swerve back onto the roadway. Ultimately, her car wound up off the right shoulder," said Deputy District Attorney Bob Bruce.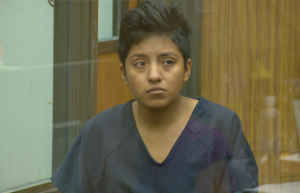 Paul Burke, 59, was the cyclist killed in the crash. He was a husband and father who ran a North County surf shop.  His family has set up a GoFundMe account.
"[Burke] was out for a recreational bike ride. Nothing indicates he was doing something that would put any of the fault or liability on his part," Bruce said.
Garcia stayed at the crash scene and cooperated with investigators who took her into custody.  As to what type of drugs were in Garcia's system has yet to be determined, according to Bruce.
"You can call it a drug. I won't go so far as to even call it a controlled substance. We have to wait for the toxicology," said Bruce.
Garcia does not have a criminal history. If convicted, she could get a maximum of 10 years in prison. Her bail is $750,000 and a preliminary hearing is scheduled for July 11.