This is an archived article and the information in the article may be outdated. Please look at the time stamp on the story to see when it was last updated.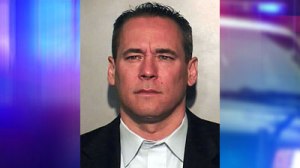 CHULA VISTA, Calif. — A man who posed as a cop and subjected motorists to phony stops in Chula Vista was convicted Wednesday of 20 criminal charges, including impersonating a peace officer.
Kevin Alan Kenniston faces 24 years in state prison when he is sentenced Jan. 9 at the South Bay Courthouse.
"The defendant repeatedly preyed on drivers, using their respect for law enforcement to victimize them," said District Attorney Bonnie Dumanis. "Testimony also showed this defendant had a long history of domestic violence. This case is a reminder that violence can quickly escalate and victims or their loved ones should report it and seek help."
Jurors also convicted the 43-year-old defendant of breaking into his ex- girlfriend's apartment and assaulting her.
Kenniston was first arrested April 5, 2011, for using a black-and-white Ford Crown Victoria equipped with a siren, public-address system and roof- mounted lights to trick at least three motorists into pulling over.
In at least one of the cases, Kenniston used the phony traffic stop to deliver a 20-minute lecture to a victim about safe driving, police said.
In another stop, Kenniston used emergency lights and the public-address system  to confront a driver who was parked near a red or yellow zone. When the woman ignored him, the defendant blocked her car and demanded her driver's license, registration and insurance.
Kenniston was free on bail in connection with the phony stops when he was re-arrested in response to the filing of a police report by an ex- girlfriend who had taken out a temporary restraining order against him.
The woman said that on April 22, 2011, Kenniston parked his Jeep near a jogging path she uses in Chula Vista and later that day made a telephone call to her.
The next day, the woman said Kenniston followed her into a supermarket parking lot and tried to speak with her. That evening, Chula Vista police went to Kenniston's Engleman Court home to arrest him, but he fled out the back door and escaped.
The next night, officers were called to the woman's home in northern Chula Vista after her 11-year-old daughter said she saw Kenniston there, jiggling a door in an attempt to get inside, according to police.
Officers eventually took Kenniston into custody on April 25, 2011, during a traffic stop.
Besides police impersonation and violating a restraining order, the defendant was convicted of kidnapping, false imprisonment, stalking and child cruelty.