This is an archived article and the information in the article may be outdated. Please look at the time stamp on the story to see when it was last updated.
SAN DIEGO  - Facebook users were in a frenzy Tuesday after the social media app asked them if posts contained hate speech.
"All of a sudden Facebook has added a button to EVERY SINGLE POST ON MY FEED asking if it's hate speech," Twitter user Sean Breslin posted Tuesday.
Users took to Twitter with snarky comments about the survey.
Facebook testing a "hate speech" feature? For a few minutes, every single post I saw was flagged with a prompt to vote whether it contained hate speech. What could possibly go wrong ... #Facebook #yikes

— Courtney Pastor (@CourtneyCP) May 1, 2018
Facebook is trying to protect the world from hate speech. Do not impede its ability to do so lest it perceive us a threat to its ability to protect us.

— Carreidas 2020 (@WineJerk) May 1, 2018
No, this post does not contain a hate speech. Wait, I take that back. I hate that Facebook is even asking me that question. Are they REALLY leaving it up to me to make that decision?

— JohnnyRock (@JohnnyRock) May 1, 2018
When users clicked on the "Yes" button, they were prompted to "Give Feedback on This Post." Yet the feedback options weren't quite clear -- only stating "Hate Speech," "Test P1," "Test P2," and "Test P3."   Facebook explained that they are using the feedback to help them "learn when something's not right."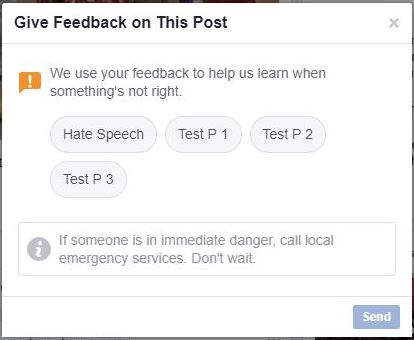 Facebook responded to Gizmodo, a technology publisher, request for comment on the survey.
"This was an internal test we were working on to understand different types of speech, including speech we thought would not be hate. A bug caused it to launch publicly. It's been disabled."