This is an archived article and the information in the article may be outdated. Please look at the time stamp on the story to see when it was last updated.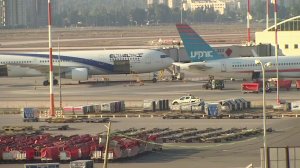 WASHINGTON (CNN) — The United States has lifted its ban on its airlines flying to and from Tel Aviv, but there is no early indication on when full service would be restored.
The move came on Wednesday night, a day and a half after it imposed the prohibition over security concerns amid renewed Mideast violence.
Israeli officials, including Prime Minister Benjamin Netanyahu, lobbied Washington to reverse the extraordinary order that was put in place by the Federal Aviation Administration after a Hamas rocket struck close to Ben Gurion International Airport on Tuesday.
Other international airlines followed suit, canceling many flights.
Now that U.S. flights may resume, only United Airlines and Delta Airlines have said that it would do so. US Airways, the other U.S. airlines that fly to Israel, have not announced a decision either way.
The FAA said on Wednesday it had worked with other U.S. government agencies and officials to assess security in Israel and "carefully reviewed" new information and measures Israel was taking to "mitigate potential risks to civil aviation."
Hamas had previously threatened rocket attacks against the airport.
While U.S. airlines operate only a handful of flights per day overall to Israel, FAA safety directives are influential worldwide and can impact future bookings.
Also, close American ties to Israel, in this case through aviation, carry important prestige and symbolism and can influence politics, the economy and views of the current conflict there.
The European Aviation Safety Agency only recommended that airlines avoid flying to Tel Aviv, and some carriers heeded that advice.
Spain's Iberia Airlines and the Lufthansa Group, which includes Austrian Airlines and Swiss International Air Lines, had not indicated a resumption in service. British Airways never stopped its twice-daily flights, it said.
Air Canada said it would start flying again to Israel on Thursday night, according to its verified Twitter account.
Ban openly questioned
The FAA ban was openly questioned by the Israeli government and sharply criticized by some high-profile U.S. political figures.
They included former New York Mayor Michael Bloomberg, who flew to Tel Aviv and made his point bluntly on CNN, and Sen. Ted Cruz, a Texas Republican, who believed the step was imposed to pressure Israel into a cease-fire.
But Anthony Blinken, the deputy White House national security adviser, insisted to CNN's Wolf Blitzer that politics played no role in the decision.
"We didn't use the FAA to do anything. The FAA makes independent judgments for safety and security of our airline passengers and for our airlines," Blinken said. "They made a judgment and we're not in the business of second-guessing the FAA or overturning what they do."
Also speaking to Blitzer after flying to Israel on its flag carrier, El Al, Bloomberg said the FAA ban had been a mistake.
"We certainly don't want to stop flights into airports in America," he said. "It would be devastating for America. It's devastating for Israel when you stop flights."
The FAA said it is continuing to monitor the "very fluid situation" around Ben Gurion airport and will take additional steps, if necessary.