This is an archived article and the information in the article may be outdated. Please look at the time stamp on the story to see when it was last updated.
SAN DIEGO — San Diego Gas & Electric announced Friday that it has secured approval from the Federal Aviation Administration to research the use of aerial drones to inspect and locate problems in transmission equipment in remote East County locales.
SDG&E claimed to be the first utility in the nation to be granted FAA approval for such technology.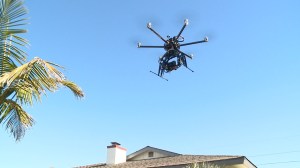 The purpose of the program is to investigate how the utility might be able to integrate small unmanned aircraft into day-to-day operations to improve inspections of electric and gas lines, particularly in areas that are off- limits to helicopters or difficult to reach by road or other means.
Drones, commonly measuring about 16 inches in diameter and weighing less than a pound, could use cameras to inspect utility equipment and relay live images back to controllers, access infrastructure difficult to reach for utility crews and alert them if repairs are needed.
The craft could also monitor wildfires and locate the cause of outages by conducting inspections of power lines, according to SDG&E.
The first step of the pilot program will be to test the technology in four approved East County areas, each about 2.5 miles long and a half-mile wide, and containing no homes or businesses. SDG&E also received approval for a 100-yard-diameter airspace for training at a facility in San Diego.
If the technology proves effective, the utility will consider seeking FAA approval to put the drones into actual use.
"The unmanned aircraft system (potentially) provides us with another tool in our electric and gas operations tool chest," said Dave Geier, SDG&E vice president of electric transmission and system engineering.