This is an archived article and the information in the article may be outdated. Please look at the time stamp on the story to see when it was last updated.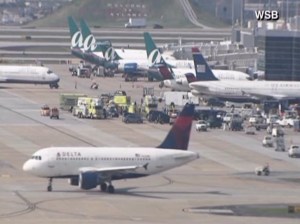 ATLANTA (CNN) — A blast occurred at a maintenance shed at Hartsfield-Jackson International Airport in Atlanta on Tuesday morning, and part of a concourse was briefly evacuated, authorities said.
A small electrical explosion occurred around 8:40 a.m. near gate D21 at a "ramp level maintenance shop," the airport said in a news release.
"The cause of this explosion is currently under investigation. There were no reported injuries, and there was no fire," the airport said.
"There has been minor property damage. Passengers on the north side of Concourse D were evacuated to Concourse E. Arriving aircraft have been reassigned to other available gates."
The airport said the Atlanta Fire Department has since given the all-clear, and passengers were returning to Concourse D. A partial power outage remains in certain areas of the concourse, it said.
"Travelers should check with their airlines for any changing gate assignments," the airport said.
Janet Ward, an Atlanta Fire Department spokeswoman, said there was no fire and smoke at the shed. But, she said, an evacuation was made as a precaution on Concourse D and power was turned off.
Passengers who have since returned to Concourse D told CNN the situation there is normal.
FBI Special Agent Stephen Emmett said the incident doesn't appear to be terrorism-related. He said Atlanta police are taking the lead in reviewing the situation and the agency is not responding to the event.