This is an archived article and the information in the article may be outdated. Please look at the time stamp on the story to see when it was last updated.
SAN DIEGO — The newly expanded 445,000-square-foot Terminal 2 at Lindbergh Field is fully open to the public as of Tuesday.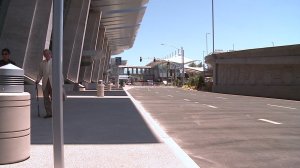 The additions to the terminal, which were publicly unveiled in stages beginning in April, include 10 new gates, a dual-level roadway for arriving and departing passengers, and new eating and shopping options.
Thella Bowens, president and CEO of the San Diego County Regional Airport Authority, said the expansion takes Lindbergh Field to "a new level."
"We're excited for travelers to experience all of the benefits of the expansion, which will make their traveling experience easier and less stressful," Bowens said. "And we're proud of the economic benefit this project brought to the region, including construction jobs and work for local businesses."
At a ribbon-cutting ceremony on Friday, area business and civic leaders lauded the expansion for enhancing economic activity in the region, including providing more than 7,000 construction and related jobs during the recession.
"We made a strong commitment to providing opportunities for small and local businesses to earn work on this project, and those efforts were a huge success," said Robert Gleason, chairman of the board of the airport authority.
The project, which airport officials called "The Green Build," is also expected to receive a top certification for energy efficiency. It was completed on time and around $45 million under its $1 billion budget, according to the airport authority.
The heart of the new area is called "Sunset Cove," a dining area that provides a panoramic view of the airport. Restaurants in Sunset Cove include Saffron, Bubbles Seafood Wine Bar, Seaside Stack Shack, Qdoba, Red Mango and Tommy V's Pizzeria, according to the airport authority.
San Diego favorites Stone Brewing Co. and Phil's BBQ are also included in the terminal.
The new shops include an outlet of Warwick's, the independent La Jolla bookstore, and Pannikin Coffee & Tea.
The new security area will be expandable up to 12 lines during peak travel periods in order to speed up the processing of passengers. Once they're at the gates, travelers will have seats equipped with power and USB outlets, and cup holders.