This is an archived article and the information in the article may be outdated. Please look at the time stamp on the story to see when it was last updated.
SAN DIEGO — Attorneys for former San Diego State University women's basketball coach Beth Burns filed a lawsuit against the university Wednesday claiming she was unfairly fired.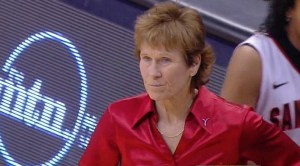 Burns, who was head coach of the Aztec women's basketball team for 16 years, retired in April 2013. Her suit claims that the university threatened to fire her and withhold retirement benefits unless voluntarily retired.
"San Diego State fired Coach Burns without good cause, and without any legitimate reason," said Edward Chapin, one of the attorney's representing Burns.  University officials wanted her out because she wanted the school to give women's basketball the same support it gave men's sports, Chapin said.
"Although she provided exceptional leadership to the team and her staff on and off the court and was committed to excellence in every facet of its women's basketball program, she was forced to resign solely because of her unwavering insistence that the institution put women's basketball on an equal footing with the athletic resources and opportunities provided to men at the university."
Barns left the program after video surfaced showing her slapping an assistant coach during a game. One slap was onto a clipboard, the other on the assistant's shoulder.
Chapin called it "flimsy evidence."
An SDSU spokesperson said the school would not comment on pending or ongoing litigation.
"As a result, her coaching career and her reputation have suffered irreparable damage," Chapin said. "She is filing this action to ensure her side of the story is heard, and that SDSU is held accountable for its misconduct and the lasting harm that has resulted from it."