This is an archived article and the information in the article may be outdated. Please look at the time stamp on the story to see when it was last updated.
SAN DIEGO – The wife of former San Diego Mayor Roger Hedgecock deserves to be compensated for injuries sustained when she tripped on a dangerous sidewalk in Pacific Beach, causing one of her breast implants to rupture, her attorney said Tuesday, but an attorney for the city questioned the plaintiff's claim on several grounds, including whether she fell at all.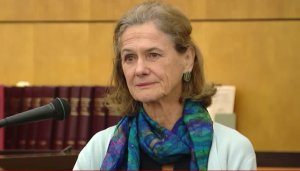 Cynthia Hedgecock sued the city last year, claiming that the fall on July 31, 2015, caused her implant to leak beyond a normal enclosure of scar tissue and requiring her to undergo removal and replacement surgery.
In his opening statement, Hedgecock's attorney Brett Schreiber told jurors that the city has refused to take responsibility, even though it admits the sidewalk was dangerous and it knew about it. Hedgecock incurred nearly $20,000 in medical bills and endured pain and suffering and needs to be compensated for it, her attorney said.
Chief Deputy City Attorney Catherine Richardson told the jury that the city doesn't agree that Hedgecock's fall resulted in a ruptured implant.
Richardson said Hedgecock had a scheduled doctor's appointment five days after she reportedly fell but didn't mention it to the physician. The attorney also questioned where Hedgecock fell and said the plaintiff failed to take photos of any injuries.
An MRI done weeks after the fall looked similar to an MRI done in 2012 when Hedgecock said she fell while on vacation in Hawaii, Richardson told the jury. The 2012 MRI showed ruptures of both breast implants, she said.
Medical records show the implants were due for replacement anyway because they were more than 20 years old, the attorney for the city said.
Cynthia Hedgecock, now 70, testified that she was walking to an appointment on Morrell Street when she caught a toe in the uneven sidewalk and fell hard on her chest, with her arms outstretched.
Hedgecock said she didn't tell her doctor about it five days later.
"I considered it pretty minor, actually," Hedgecock testified.
She said she brought it up during a follow-up visit after noticing changes in her breast.
Hedgecock testified that she had surgery to remove the implants and put in new ones in November 2015, saying the recovery was extensive.
"There was a lot of pain," she said.
Hedgecock said she got her original implants because of "vanity."
"I wanted to look a little bit better," the mother of two testified.
She said she brought the lawsuit to bring awareness to the dangerous conditions which resulted in her fall. She is the only plaintiff in the trial.
Her 71-year-old husband was mayor of San Diego from 1983 to 1985, when he was forced to resign after pleading guilty to a felony conspiracy charge stemming from an illegal funding scheme involving his mayoral campaign. The conviction was later reduced to a misdemeanor.