This is an archived article and the information in the article may be outdated. Please look at the time stamp on the story to see when it was last updated.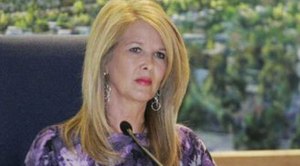 SAN DIEGO — A former El Cajon city councilwoman who stole $3.5 million from her Kearny Mesa employer by writing unauthorized checks was sentenced Monday to 30 months in federal prison.
Jillian Hanson-Cox, 53, pleaded guilty in September to mail fraud and wire fraud.
Assistant U.S. Attorney Stephen Clark said Hanson-Cox took the money between April 2004 and November 2008 from Century Design Inc., a maker of machinery for processing composite materials. Hanson-Cox worked as a controller for the company.
Prosecutors said the defendant abused her position by writing checks to CDI's business account to pay for her personal expenses, including credit card bill, and for services and items related to her community activities.
To conceal the fact that she had signed unauthorized CDI checks to pay businesses and vendors for her personal benefit, Hanson-Cox made false entries in CDI's books and records that reflected a different payee rather than the actual payee on the checks, according to prosecutors.
Several people connected with El Cajon's annual Mother Goose Parade were contacted by the FBI about how celebrities brought in for the parade were paid when Hanson-Cox ran the nonprofit organization in 2007 and 2008.
In connection with her guilty plea, Hanson-Cox admitted that she failed to report income on her tax returns for the years 2005 through 2008.
Hanson-Cox, who resigned her council post in March, was ordered to begin serving her custody by Jan. 14.