This is an archived article and the information in the article may be outdated. Please look at the time stamp on the story to see when it was last updated.
SAN DIEGO — A convicted felon who masterminded a massive ponzi scheme nearly three decades ago, then became a fraud investigator and pastor after getting out of prison, pleaded guilty Wednesday to defrauding San Diego Community Bible Church and its congregation out of more than $3 million.
Barry Minkow, who is currently in custody after his conviction on unrelated securities fraud charges, admitted his guilt in the embezzlement case in a hearing before Magistrate William Gallo.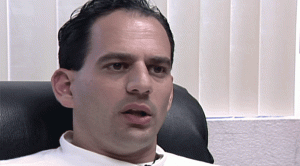 Minkow, who pleaded guilty to conspiracy to commit mail fraud, wire fraud and bank fraud, faces up to five years in prison when he is sentenced April 7.
"Barry Minkow pled guilty today to embezzling more than $3 million in money intended as church donations (while employed as a pastor) and concealing it all from the IRS," said Joel P. Garland, Acting Special Agent in Charge of IRS Criminal Investigations for the Los Angeles Field Office.
"Barry Minkow has admitted not only his fraud, but his omission of over $890,000 in unreported income and over $250,000 in tax," Garland said.
Minkow, 46, admitted to a litany of improper conduct that continued for more than a decade, including opening unauthorized bank accounts on behalf of the San Diego church, forging signatures on church checks, using funds drawn on legitimate church accounts for his personal benefit, and charging unauthorized personal expenses on church credit cards.
In addition, Minkow confessed to diverting SDCBC member donations for his own benefit and embezzling money intended as church donations.
The former Reseda business whiz was convicted in December 1988 of swindling investors out of more than $26 million through ZZZZ Best Co., a carpet-cleaning enterprise he started when he was 16.
The fast-talking, charismatic young salesman convinced investors — and many in the mainstream media — that ZZZZ Best was making $43 million a year restoring buildings that had been damaged by fire or flood.
Before its collapse in 1987, the company's stock value soared to $200 million and Minkow was hailed as a business genius. He began sending money to Israel, buying fast cars and living the high life that was soon to come to an end.
In prison, Minkow became a born-again Christian and began evangelizing. He also cooperated in a class-action lawsuit in which ZZZZ Best shareholders recovered about 95 percent of their losses,
He was paroled in late 1994, after serving less than a third of a 25- year sentence in which he was also ordered to pay nearly $26 million in restitution, and went to work at a church in Chatsworth.
In 1997, Minkow became the pastor at SDCBC and founded the Fraud Discovery Institute, a for-profit entity which was billed as being aimed at the detection and prevention of fraudulent business practices.
Through the work of FDI, Minkow garnered national media attention as a fraud detection expert, and his turn-around story was profiled by CBS' "60 Minutes" in 2006.