This is an archived article and the information in the article may be outdated. Please look at the time stamp on the story to see when it was last updated.
SAN DIEGO — A ex-con shot by police in Pacific Beach as he allegedly rushed toward officers with a pair of scissors pleaded not guilty Thursday to three assault charges.
Paul Aaron Brinkman, 37, made his initial court appearance after being released from a hospital, where he was treated for his wound.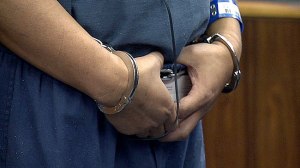 Deputy District Attorney Michael Runyon said Brinkman, recently released from prison, stabbed a man in an arm in Pacific Beach early Saturday.
That afternoon, Brinkman lunged at another man outside a hair salon on Garnet Avenue near Dawes Street. The other person, who believed his assailant was armed with a knife, jumped back to avoid being stabbed, ran off and called police, Runyon said.
Runyon said others who saw the attack flagged down a police officer, who responded and called for back-up. Brinkman was rambling when he was caught, he said.
"As the defendant got approximately 15 feet from the officer, ignoring the officer's repeated demands to put the knife down, the officer shot him once in the stomach area," Runyon said.
The prosecutor said the "knife" turned out to be scissors that had been altered.
Brinkman is charged with two counts of assault with a deadly weapon and one count of assault with a deadly weapon on a peace officer. He faces eight years and four months in prison, if convicted.
Brinkman was convicted in 2007 of an assault on a police officer in San Diego County, had convictions for resisting officers and, while in custody, tossing urine at others, Runyon said.
Judge David Szumowski ordered Brinkman held on $500,000 bail and scheduled a readiness conference for Oct. 7.
The name of San Diego police officer who shot Brinkman was being withheld. He has been with the department for six years, according to Lt. Jorge Duran.