This is an archived article and the information in the article may be outdated. Please look at the time stamp on the story to see when it was last updated.
SAN DIEGO — A man accused of shooting a San Diego police officer who chased him into a freeway culvert pleaded not guilty to premeditated attempted murder and other charges.
Ignacio Canela, 31, was ordered held with bail set at $1.6 million. He faces 40 years to life in prison if convicted of all charges.
C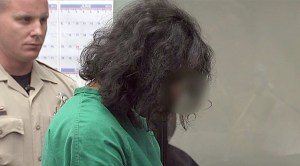 anela was arrested about 3:45 p.m. on Oct. 24, less than 15 minutes after allegedly shooting SDPD Officer Tim Bell four times in the culvert at the intersection of Interstate 805 and State Route 15.
Bell, a five-year member of the department, underwent emergency surgery and was expected to fully recover, according to SDPD Chief William Lansdowne.
The events that led to the shooting began about 2:15 p.m. Thursday, when officers put Canela under surveillance at a home on Wightman Street, Capt. Terry McManus said.
After about an hour, Canela, who was the subject of two felony arrest warrants, walked out of the house with a female companion, and they got into a silver Dodge SUV with him behind the wheel and drove off, he said.
The officers tailed the vehicle onto nearby SR-15, waited until a police helicopter arrived over the area and tried to pull over Canela as he exited the freeway onto Adams Avenue, the captain said.
The suspect refused to yield and sped off to the south over various city streets before reaching a dead end in the 3000 block of Central Avenue. There, he and the woman jumped out of the SUV, which continued rolling and went down a brushy slope.
Officers chased Canela through a nearby canyon and into the dark drainage channel. Bell, the first to enter, promptly came under fire, suffering arm, leg and abdominal wounds, and was not able to return fire, according to police.
Bell's bulletproof vest likely prevented him from suffering considerably more serious — even fatal — injury, McManus said.
A loaded pistol was found ditched in a nearby residential yard.