This is an archived article and the information in the article may be outdated. Please look at the time stamp on the story to see when it was last updated.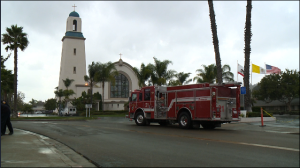 SAN DIEGO — An ex-con was back behind bars Friday on suspicion of maliciously setting a fire that caused more than $200,000 worth of damage to a church near Mount Helix.
Investigators arrested Eugene William Volk, 45, Thursday as he walked near fire-damaged Santa Sophia Church on San Juan Street in Spring Valley, sheriff's arson Detective Anthony Portillo said.
"We are forgiving people," said Father Jacob Bertrand, Santa Sophia Catholic Church. "We do believe in justice and we want justice to be served through the system, but that we also really desire mercy."
Shortly before 8 p.m. Tuesday, flames began spreading through the Catholic house of worship just north of Campo Road and State Route 94.
It took firefighters about 10 minutes to douse the non-injury blaze, which caused extensive damage to the church interior.
Father Bertrand said the clean-up process is already underway, but it will likely be several weeks before the church can reopen.
"They're already working, repairing water damage, smoke damage," said Father Bertrand. "They've got blowers in the church that have just been blowing 24-7 getting rid of all the smoke that's contained in the church still."
Authorities would not say what led them to conclude that the fire was intentionally set or identify Volk as the suspected arsonist.
The motive for the alleged crime was unknown, according to Portillo.
Bertrand said he's breathing a sigh of relief an arrest was made.
"I've got a school that I want to protect and keep safe," said Father Bertrand. "So with the fact that we know there's an arrest, especially with the school, that gives me a lot of comfort and security knowing we've done a good job of protecting our children, especially."
Volk was being held at San Diego Central Jail on $500,000 bail pending arraignment, scheduled for Tuesday afternoon.