This is an archived article and the information in the article may be outdated. Please look at the time stamp on the story to see when it was last updated.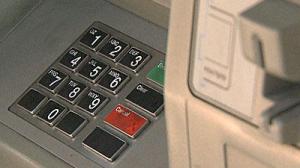 VISTA, Calif. — A parolee pleaded guilty to a burglary charge Thursday in connection with his role in a scheme to steal account information from customers at an Escondido bank.
Rick C. Huffman, 45, will be sentenced to three years in state prison on April 11.
Deputy District Attorney Anna Winn said Huffman served as a lookout about 7:30 a.m. on Jan. 30 for a second man, who was seen on surveillance video installing a card-skimming device and a small camera at a Chase Bank on Felicita Avenue near Centre City Parkway.
The prosecutor said the card-skimming device was taped over a reader that customers used to swipe their ATM cards to get into the bank's vestibule. She said the camera was taped to the top of the ATM, but out of view, so it could capture the finger movements of bank customers as they entered their personal identification numbers.
Winn said 10 bank customers were affected by the skimming operation, which lasted about an hour.
The second suspect is still at large, the prosecutor said.