This is an archived article and the information in the article may be outdated. Please look at the time stamp on the story to see when it was last updated.
NEW YORK – Still recovering from the aftershock of yesterday's Super Bowl Media Day hullabaloo, we were right back at it Wednesday morning.
It took some time to regain my senses, so Sean Byrd (Fox5 cameraman of the century) and I posted up at the Sheraton Times Square and get some editing out of the way.
Our workroom is one floor above Radio Row, a giant ballroom filled with row after row of – you guessed it – radio personalities. I've never seen so many people talking at one another in such opinionated and bombastic tones – it's quite entertaining.
#SBRadioRow is busy. Saw my 1st #SuperModel and thought Wow! #SanDiego has 1000's of em… pic.twitter.com/iseL9vQO7B

— Sean M. Byrd (@byrdyman) January 29, 2014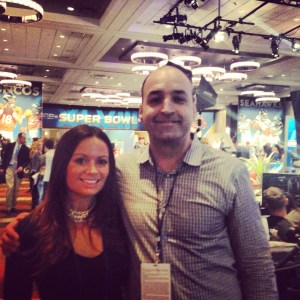 The workroom became a reunion of sorts for Byrd and me. We ran into just about everyone we've ever worked with in the news business and who was lucky enough to get the Big Game assignment.
Today's story was about three former San Diego Chargers – Shaun Phillips, Quentin Jammer and Louis Vasquez – who now play for the Denver Broncos. I had this grand plan to find a San Diego Chargers backer-bar in NYC and do part of my report in a powder blue and canary yellow-clad watering hole as the local bartender demonstrated how to make specialty cocktails with names like  "Bolt Elixer" or "Super Charger."
One cab ride and a 30 minute walk through the icy cold streets of the Grammercy Park neighborhood – my dreams were officially squashed.
Dewey's Flatiron, the most famous of Charger bars in the Big Apple, was boarded up and closed forever. So, we trekked east towards The Still, another popular spot for San Diego transplants.  Unfortunately, it's become Triona, a bar for the Chicago die-hards.
"Sorry lady, ain't no Chaaaaga bar here. Go Bears!" a Triona worker said.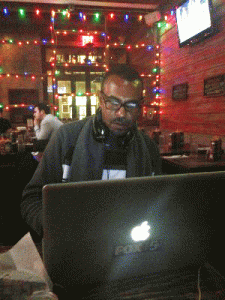 Our last hope was MJ Armstrongs, but one Google search later and it was apparent: MJ had suffered the same fate as poor Dewey.
With our deadline fast approaching, Byrd and I sprinted another six blocks to Brother Jimmy's, a Southern BBQ joint of all things, but a famous New York haunt for sports junkies nonetheless. We filmed our report and turned one of the tables into it into an office whilst downing some divine Brunswick stew and my favorite of all the Southern foods – fried pickles.
Next up, we are off for a live report from Times Square, which has transformed into Super Bowl Boulevard! I hear there is an ice slide. See you at 6 p.m. PST.
A little snow last night and currently 16 degrees in #NewYork…Don't know how you folks do it. Brrrrrr pic.twitter.com/5tsGXcdrRE

— Sean M. Byrd (@byrdyman) January 29, 2014