This is an archived article and the information in the article may be outdated. Please look at the time stamp on the story to see when it was last updated.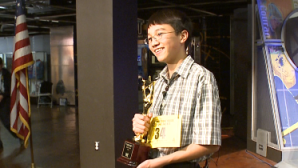 ESCONDIDO. Calif. — Giabao Tonthat, an eighth-grader at Heritage K-8 Charter School in Escondido, is among the 281 students competing today in the Scripps National Spelling Bee in Oxon Hill, Md., which has incorporated vocabulary questions for the first time.
The contestants took computer-based spelling and vocabulary tests Tuesday, which are considered the first round of the bee. They will take to the stage at the Gaylord National Resort and Convention Center today for the second and third rounds, when they will attempt to correctly spell one word each. Contestants misspelling a word will be eliminated.
Those who spell both words correctly have the chance to be among the maximum of 50 spellers advancing to Thursday's semifinals, depending on how well they did on Tuesday's tests.
Adding the vocabulary questions "is a significant change in the Scripps National Spelling Bee, but also a natural one," said Paige Kimble, the bee's executive director and its 1981 champion.
"It represents a deepening of the bee's commitment to its purpose – to help students improve their spelling, increase their vocabularies, learn concepts and develop English usage that will help them all their lives."
Giabao is 13, loves playing with his Australian shepherds May and Com, enjoys football, reading and soccer. His favorite movie is "Toy Story 3" and he likes the music of pianist and YouTube sensation Kyle Landry.
The bee is limited to students in eighth grade or below, with contestants ranging in age from 8 to 14 years old.
The field consists of students who won locally sponsored bees in all 50 states and the District of Columbia, along with American Samoa, Guam, Puerto Rico, the U.S. Virgin Islands and Department of Defense schools in Europe.
Seven foreign nations are also represented — the Bahamas, Canada, China, Ghana, Jamaica, Japan and South Korea.
The winner of the bee will receive $30,000 from Scripps, which owns television stations and newspapers; a $2,500 U.S. savings bond and complete reference library from the dictionary publisher Merriam-Webster; and $2,000 in reference works from Encyclopaedia Britannica.
The semifinal and championship rounds will be held Thursday, with a contestant eliminated after he or she misspells a word.
Rounds two and three can be seen on the broadband network ESPN3.com 5-8:45 a.m. and 10:15 a.m.-3:15 p.m. ESPN2 will carry the semifinals from 11 a.m.-2 p.m. Thursday. The championship finals will be on ESPN from 5-7 p.m. Thursday.
Throughout the entire competition, ESPN3.com will carry a second "play along" version, where viewers will have the option to view coverage without seeing the word until the last second so they can test their spelling skills against the champion spellers. This is ESPN's 20th year of covering the bee.
San Diego produced last year's champion, Snigdha Nandipati.