This is an archived article and the information in the article may be outdated. Please look at the time stamp on the story to see when it was last updated.
ESCONDIDO, Calif. – Investigators revealed Monday the 50-year-old Mexican national suspected of killing his estranged wife at a home outside Escondido may be in a stolen car.
Juan Garcia, who also goes by Jose Luis Paredes and Jose Moreno, fled after allegedly fatally injuring 46-year-old Teresa Ortiz at a home in the 3000 block of North Broadway near Cougar Pass Road early Saturday evening, according to the San Diego County Sheriff's Department.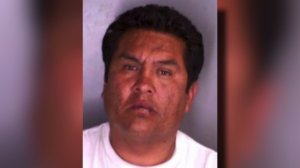 Garcia, a long-time Escondido resident, abandoned his red Ford Explorer and is believed to be heading to the Mexican border in a stolen 2003 silver Ford Taurus with California license plate 7NNJ790.
Ortiz was found with severe upper body trauma shortly before 5:30 p.m. Saturday and later died at a hospital, sheriff's Lt. Kenneth Nelson said. Authorities have yet to release her official cause of death, but the San Diego Union-Tribune reported that she had been shot.
Garcia's SUV was later found abandoned at a commercial property a few miles north of where Ortiz was mortally wounded, Nelson said.
Garcia is Hispanic, roughly 5 feet 8 and 170 pounds with brown eyes and curly, shoulder-length black hair. He is clean-shaven and has a small tattoo on the outside web of his right hand. Authorities said Garcia uses a variety of names and dates of birth.
"We've notified all our state, federal and local partners in the area regarding Mr. Garcia. And to be honest with you he could be anywhere. Mexico is definitely an option. but it's not the only option." Said San Diego Sheriff's Homicide Investigator, Lt. Kenn Nelson.
Sheriff's officials said Garcia was considered armed and dangerous and may be toting a large semi-automatic handgun. Anyone with information on his whereabouts was asked to call the sheriff's department at 858- 974-2321 or 858-565-5200, or to contact Crime Stoppers' anonymous tip line at ---888-580- 8477.