This is an archived article and the information in the article may be outdated. Please look at the time stamp on the story to see when it was last updated.
ESCONDIDO, Calif. – An Escondido man is celebrating his 400-pound weight loss with the entire world  after being featured in People magazine.
Michael Holcomb, 26, was shocked when the popular magazine contacted him about featuring the story of his amazing transformation.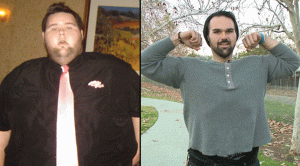 "I thought they were yanking my chain," said Holcomb.  "I thought, 'Yeah, right.'"
He started his weight-loss journey when he carried 607 pounds on his 6-foot-3-inch frame.  He admits to spending most of his days eating 15,000 calories full of simple carbohydrates like pasta, rice and sugar.
"If I walked to my kitchen I'd have to take a break at the couch," he said.  "And then I'd relax and get up again to continue."
Holcomb was a heavy child and teen, and as he grew into adulthood he continued to gain weight.  One day he saw his reflection in the television monitor as he was lying on the couch and he said that's when he knew he had to change.
"I was embarrassed.  I never went swimming, I never went to the beach," he said.  "I had no formal training, no surgery, no real direction, no doctor, no personal trainer.  I just used common sense and everything I knew I shouldn't eat, I didn't eat."
Holcomb began walking to a park nearby his home.  The half-mile trek would take him more than an hour to complete and he'd walk back home.  The entire journey would be more than two hours.
"I'd walk to this park every single day, I forced myself to do it," he said.  "I ate smaller amounts, nutrient rich foods and I got away from eating when I was bored.  I was just active."
"I was able to get on the scale after I hit 400 pounds and it was off to the races from there, " he said.
In 16 months, Holcomb lost 330 pounds.  Now, he weighs 215 pounds and wears a size large T-shirt, a far cry from the 8-XL shirts he used to wear.
Holcomb now works as a personal trainer helping other people tackle weight loss issues.  He hopes to write a book and be a motivational speaker one day.