This is an archived article and the information in the article may be outdated. Please look at the time stamp on the story to see when it was last updated.
CHULA VISTA, Calif. – An implosion brought down the bay-front power plant in Chula Vista in less than a minute, but it will take crews at least 10 weeks to complete the demolition and cleanup.
The 62-year-old South Bay Power Plant in Chula Vista was successfully demolished Saturday, leaving thousands of pounds of metal and scrap in its wake.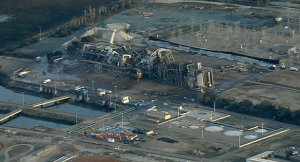 For 10 years, environmentalists fought to get rid of the plant and it took just two minutes to bring it down. They see the  demolition as a small victory in a larger battle.
"On the one hand, we just tore down a really outdated, polluting power plant, which is great news," said Environmental Health Coalition Associate Director Nicole Capretz. "On the other hand, SDG&E is proposing two more outdated fossil fuel plants in San Diego."
The group fought to have the South Bay Power Plant decommissioned in 2010 and has led opposition to the two proposed power plants in San Diego: one in Santee called Quail Brush and the other in Otay Mesa called Pio Pico.
"The stated decision suggests right now that these two power plants are unnecessary," said Capretz.
The Public Utilities Commission is expected to make a final decision on the two proposed power plants on February 13 at a meeting in San Francisco. In the meantime, Port of San Diego owns the land under the former South Bay Power Plant. Spokeswoman Tanya Castaneda said crews have already begun clearing the site.
"Dynegy had six enormous excavators on site ready to go this morning starting the work pulling down that metal, getting it ready to recycle," said Castaneda.
The full demolition of the plant is expected to take about 10 weeks following the strictest environmental guidelines.
Dynegy's lease on the land runs out at the end of 2013, when it will return to the Port of San Diego.  According to the City of Chula Vista's master plan, that's when construction will begin on 500 acres of bay-front property .
"The power plant site is part of that vision," said Castaneda. "The place where the power plant has stood is eventually going to be a public park and also a public RV park."
Hotels, commercial business and wildlife preserve are also planned.