This is an archived article and the information in the article may be outdated. Please look at the time stamp on the story to see when it was last updated.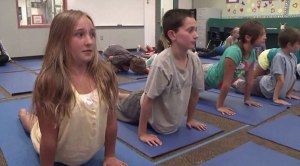 ENCINITAS, Calif. — The Encinitas Union School District school board voted unanimously Wednesday to accept a $1.4 million grant to expand an elementary school yoga program that was the subject of a recent court battle.
The award from the Sonima Foundation, formerly called the Jois Foundation, will expand the program by hiring two yoga teachers at each of the nine of the district's campuses.
A San Diego Superior Court judge ruled on July 1 that the yoga exercise program was not religious in nature.
The ruling by Judge John Meyer came in a lawsuit filed by parents of a student, who contended that the yoga instruction included religious elements and that children whose parents opted out lost state-mandated physical education time.
District Superintendent Timothy Baird told 10News that yoga is supported by most of the students.
"I've received a number of emails from students saying this is a great program, they love it, they have fun in the program, they feel that they're getting stronger, they have more focus in the classroom," Baird said.
Parent Scott Graddy told the station, "Physical education I think is very important in school, and the fact that the Encinitas schools received $1.4 million to promote physical education and wellness I think is a very good thing."
The program was started last year following a $500,000 award from the Jois Foundation, which promotes Ashtanga yoga, a fast paced form of yoga of progressively more demanding poses with synchronized breathing. The judge, in his decision, found that the modified version of Ashtanga yoga was secular.
The plaintiffs have stated that they are likely to appeal the court ruling.