This is an archived article and the information in the article may be outdated. Please look at the time stamp on the story to see when it was last updated.
SAN DIEGO – A San Diego Unified School District elementary school principal plead not guilty Tuesday to charges alleging she possessed a stolen firearm and a myriad of illegal drugs in the trunk of her parked car.
Rachel Yolanda Escobedo, 45, was arraigned Tuesday after being arrested September 7 in a Rolando Park.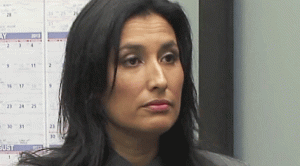 Shortly before 8:30 p.m. Sept. 7, an officer responding to a report of a suspicious vehicle in the 6800 block of Missy Court found the Lee Elementary School principal sitting in her parked 1993 Honda Accord with a 60-year-old man, SDPD public-affairs Lt. Kevin Mayer said.
The patrolman spotted an open vodka bottle inside the vehicle and a small amount of what turned out to be marijuana in an ashtray, the lieutenant said.
After getting permission to search the car from Escobedo, who was in the driver's seat, the officer allegedly found the loaded gun in the trunk, along with about two dozen prescription pills that appeared to be hydrocodone and four small baggies containing a white crystalline powder, Mayer said.
Deputy District Attorney Kelly Rand told Judge David Szumowski that a loaded .22-caliber pistol turned out to be stolen.
Escobedo, a La Mesa resident, was taken into custody without incident and her companion, whose relationship to her was unclear, was released.
She posted bail the day after she was arrested. SDUSD suspended her on September 10.
Escobedo faces four years and four months in prison if convicted, according to the District Attorney's Office.
"As a condition of remaining out on bond," said Rand. "We ask that she not possess any narcotics or drugs without a valid prescription. And not possess any firearms."
A readiness hearing is scheduled for October 17and preliminary hearing set two months later.