This is an archived article and the information in the article may be outdated. Please look at the time stamp on the story to see when it was last updated.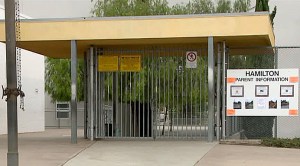 SAN DIEGO — A City Heights elementary school was locked down for a little over an hour Tuesday while officers chased down three people in a stolen car, police said.
Hamilton Elementary School at 2807 Fairmount Ave. was alerted at 8:13 a.m., according to San Diego police Lt. Kevin Mayer.
About 15 minutes earlier, officers were en route to investigate a report of a man tampering with a vehicle in Oak Park when they saw a Honda CRX being driven erratically in the area of Bayview Heights Drive and Euclid Avenue, he said.
Police pursued the car for about three minutes until it stopped in the area of 46th and Olive streets, not far from Hamilton Elementary, Mayer said.
Two passengers, a 19-year-old man and a 22-year-old woman whose names were not immediately available, were arrested on suspicion of auto theft and possession of narcotics, according to Mayer, who said the driver fled into a canyon and remained at-large.
School officials lifted the lockdown at about 9:30 a.m.