This is an archived article and the information in the article may be outdated. Please look at the time stamp on the story to see when it was last updated.
OCEANSIDE, Calif. – At 77 years-old, Oceanside resident Sonja Van Hall rarely stops, or even slows down, and a chance meeting with Seau last fall led her into a daily routine that keeps her healthy and vibrant.
Van Hall said she had just returned from a trip to Memphis and was walking on the beach in Oceanside when she came upon Seau.
"He asked me, 'How was your trip?'" Van Hall said. "And I said, 'My back went out.' And he said, 'Go to my gym.'  That's how it started."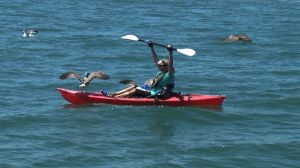 Every morning, the North County resident goes through the same routine.  It starts with a 30-minute workout at the Junior Seau Fitness Center for seniors in Oceanside.
"She's fantastic," said Betty Wilson, who also works out at the fitness center. "I mean, I could never do what she does."
Then it's on to Oceanside Harbor for a seven-mile bike ride.
"She's go, go, go," said David Cunniff, who went to high school with one of Van Hall's daughters.
Then into the water, for a four-mile paddle in her kayak where she earned the nickname 'The Bird Lady' because of all the sea gulls that flock to her.
When asked why she does this routine every day, Van Hall said simply, "It's in me. I want to do it." She then added, "I'm saving money. I do not shop. There's no time for shopping."
But Van Hall does have time to paint and the walls of her Oceanside home are filled with her original artwork.
Born in Holland, Van Hall said she moved to Oceanside in 1982 and always lived an active lifestyle. Her fitness routine has led to some of her friends going to the gym, too.
"She's definitely a large inspiration here," said Dale Godinet, a trainer at the Seau Fitness Center and also Seau's cousin. "She's awesome, everyone loves her. The spirit in her is just unbelievable."
And because she follows this routine every day, Van Hall has developed quite a following.
"She's kind of one of the fixtures of our harbor in Oceanside," said Cunniff, also an officer with the Oceanside Police Department. "I see her out here all the time. She has her pelican friends, her seagull friends and sea lion friends."
Van Hall said she invites people to keep up with her, but not many of her contemporaries take her up on her offer.
She lured this reporter onto the water in her extra kayak and I saw the ocean come to life with birds, dolphins and sea lions. I quickly realized what keeps her coming back day after day.
"Out in the ocean, you're away from the world," Van Hall said.
It's clear that her energetic workouts keep her energetic and she has no interest in slowing down.
"I love life and I'm just a happy person," Van Hall said.
Everyone should be so lucky.
Van Hall was among the hundreds of people to paddle-out for Junior Seau's memorial on Sunday.