This is an archived article and the information in the article may be outdated. Please look at the time stamp on the story to see when it was last updated.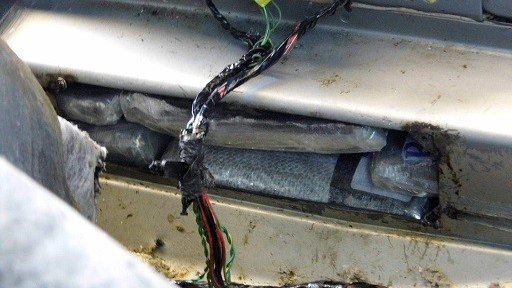 TECATE, Calif. — Border agents seized 92 pounds of heroin — valued at more than $870,000 — from an 81-year-old woman at the Tecate border crossing Wednesday, officials confirmed.
Officers at the crossing were screening vehicles with a K-9 unit when their dog reacted strongly to the driver side door of the woman's 2011 Chrysler 200.
When officers inspected the car, they removed a panel and discovered 34 wrapped packages of heroin.
The woman was arrested and turned over to Homeland Security agents.
"The cartels will try and manipulate anyone to smuggle their narcotics through the ports of entry," said San Diego CBP Director of Field Operations Pete Flores. "CBP officers are aware of the many tactics used by the cartels and remain ever vigilant to stop anyone attempting to smuggle narcotics."