This is an archived article and the information in the article may be outdated. Please look at the time stamp on the story to see when it was last updated.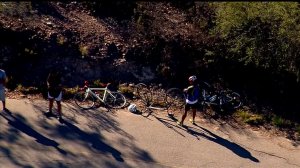 SAN DIEGO – An elderly bicyclist was hospitalized after colliding with another bicyclist near Lake Miramar in Scripps Ranch Wednesday, police said.
A 73-year-old bicyclist was reportedly distracted and riding the wrong direction in a lane of traffic when he hit a cyclist, who was traveling the correct direction, San Diego police said.
San Diego Fire-Rescue Department responded the crash around 4:30 p.m. and transported the elderly man, who suffered major head trauma, to the hospital. His condition was unknown.
It was known if the other cyclist received treatment for his injuries.