This is an archived article and the information in the article may be outdated. Please look at the time stamp on the story to see when it was last updated.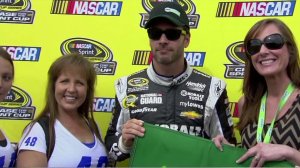 EL CAJON, Calif. — The mayor and City Council proclaimed Tuesday "Jimmie Johnson Day" in El Cajon, where the race car driver grew up, to honor his accomplishments and philanthropy.
Johnson, who now lives in North Carolina, told those in the council chamber that he returned to El Cajon "with great pride."
Johnson was handed a guitar that displays his car number, 48, and was informed that Second Street — a main commercial drag on the east side of town – – will be temporarily renamed Jimmie Johnson Drive.
"It's not everyday you get a street named after you, a guitar to the city and the day proclaimed as Jimmie Johnson day," Johnson tweeted after the celebration. "What an event and thank you to all of the fans, the city of El Cajon and the State of California."
Longtime fan Paulette Sauln was among those on hand to honor Johnson, whose foundation has provided $6.5 million to schools in El Cajon and across the country.
On the track, Johnson won his 69th race last Sunday. Last year, he won NASCAR's Sprint Cup Series championship for the sixth time.
"What a privilege it is to be witness to what Jimmie Johnson has achieved both on and off the track," El Cajon Mayor Bill Wells said. "We in El Cajon can boast to the world that perhaps the greatest dynasty in sports history is linked to our home and his. I feel certain that the significance of this day will only grow as championship number seven is not far off."
The celebration in downtown El Cajon included a display of one of Johnson's old race cars, and "Hero Cards" were handed out to fans in attendance in lieu of autographs.
The musical gift was provided to Johnson by El Cajon-based Taylor Guitars.