This is an archived article and the information in the article may be outdated. Please look at the time stamp on the story to see when it was last updated.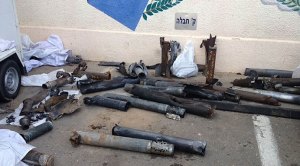 NEAR THE ISRAEL-GAZA BORDER (CNN) — After eight days of violence and nearly 150 deaths on both sides of the Israel-Gaza border, a cease-fire Wednesday promised to silence the warplanes and rocket launchers and restore a tense peace to the trouble region.
The cease-fire, announced Wednesday night in a joint news conference in Cairo with U.S. Secretary of State Hillary Clinton and Egyptian Foreign Minister Mohamed Kamel Amr, took effect at 9 p.m. (11 a.m. PT).
The agreement to end the hostilities came after a day of intensive negotiations featuring Clinton, Egyptian President Mohamed Morsy and Palestinian officials, and was a surprising cap to a day that saw militants strike deep inside Israel — with a public bus bombing in Tel Aviv that injured 24 people, according to police.
Israeli government spokesman Mark Regev said the agreement calls for "complete and total cessation of all hostile activity initiated in the Gaza Strip."
"For us, that's victory. That's what we wanted," he said.
Prime Minister Benjamin Netanyahu warned that additional military action could be needed if the cease-fire fails to lead to a long-term security solution.
"But at this time the right thing for the state of Israel is to exhaust this opportunity to obtain a long-term cease fire," he said.
Netanyahu said he agreed to U.S. President Barack Obama's suggestion to accept the cease-fire, and thanked Obama for his "unreserved support" of Israel's actions.
Israel launched the conflict eight days ago with a stated goal of ending the frequent rocket attacks on southern Israel from inside Gaza. Hamas officials have termed it a criminal expansion of Israel's occupation of Palestinian territory.
Israel will hold Hamas responsible for any attacks from Gaza, whether conducted by that organization or any others, Regev said. He said the agreement reflects that understanding.
Regev also said the deal calls for immediate talks on economic restrictions on Gaza.
"If the border is quiet, that enables us to be more forthcoming," he said. "The arrangements agreed with the Egyptians say we'll start talking from tomorrow about a process to work on those issues."
Clinton, who shuttled between Israel, the West Bank and Egypt to help negotiate the deal, said the United States will continue to work with regional partners to implement and expand the agreement.
"For it to hold, the rocket attacks must end, a broader calm return," she said.
Obama also spoke to Morsy Wednesday evening, thanking the Egyptian leader for his leadership in negotiating the cease-fire proposal.