This is an archived article and the information in the article may be outdated. Please look at the time stamp on the story to see when it was last updated.
SAN DIEGO — County Supervisor Diane Jacob got the nod Monday from her colleagues to move forward with an effort to make operating certified farmers markets simpler.  The move would impact the eight farmers markets in unincorporated San Diego County.
"They've run into some burdensome regulations that every single vendor that participates in a certified farmer's market, whether they're certified of not, has to get a solicitors license from the Sheriff's Department which is costly and it's time consuming," said Jacob.
S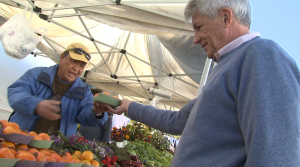 he said county staff will be working with the SD County Sheriff's Department, the farmers markets and the County Farm Bureau to come up with recommendations to streamline the process and take the responsibility off the Sheriff's Department.  The recommendations will be presented to the board in about three months.
"The responsibility and the accountability will lie with the managers and the operators of the farmers market," she said.  "They're already are doing this. There are a lot of duplications that are occurring so we're eliminating the duplication."
Jacob said it's a win-win to let the operators monitor the vendors instead of law enforcement.
"It's going to benefit the vendors because it will be less costly for them to participate and it will benefit people in the communities and the surrounding communities of the unincorporated area because there will be more vendors," Jacob said.
Matthew McCreight runs Smit Orchards and participates in several farmers markets a week.
"I think it's always a good thing when there's more local produce available and also healthier produce for people without having them to travel a far distance," said McCreight.