This is an archived article and the information in the article may be outdated. Please look at the time stamp on the story to see when it was last updated.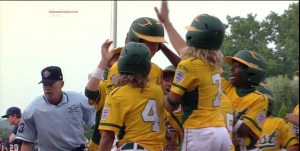 CHULA VISTA, Calif.  – The Eastlake Little League All-Stars from Chula Vista hit four home runs in a 15-3 victory Sunday over the all-star team from Newark, Del. in a Little League World Series game in South Williamsport, Pa. shortened to four innings because of the 10-run rule.
Jake Espinoza, the No. 2 hitter in the Eastlake lineup, began the barrage of home runs with a two-run blast in the first, tying the score, 2-2.
Micah Pietila-Wiggs hit a tie-breaking three-run homer in the second inning.
Michael Gaines hit a solo home run in the third. Eastlake added a second run in the inning on Pietila-Wiggs' sacrifice fly, which increased its lead to 7-2.
Grant Holman ended the game with a grand slam with two outs in the Eastlake's eight-run fourth inning after striking out in each of his first three at bats.
Eastlake combined singles by Nick Mora and Gaines, four walks and two wild pitches for its first four runs of the inning.
Newark, the Mid-Atlantic Region champion, scored twice in the first.
Jack Hardcastle's two-out double drove in Nathan Hardcastle, who had an infield hit.
Joseph Davis also scored on the play on an error by Holman, the Eastlake shortstop.
Davis had reached first on an error by Kevin Bateman II, the Eastlake left fielder.
Brandon Sengphachanh hit a solo home run for Newark in the fourth.
Mora pitched a three-hitter, striking out six and walking one helping Eastlake to its 20th victory in 21 games in five tournaments.
Eastlake will next play Wednesday against the all-star team from Westport, Conn., the New England Region champion, in a matchup of the tournament's only two undefeated U.S. teams.
The other four teams remaining in contention for the U.S. title in the double-elimination tournament are all 1-1.
Westport defeated the all-star team from Sammamish, Wash., the Northwest Region champion, 9-7, earlier today.
The Chula Vista team is one victory away from advancing to the U.S. Championship Game, scheduled for Saturday.
The World Series Championship Game is scheduled for next Sunday.