This is an archived article and the information in the article may be outdated. Please look at the time stamp on the story to see when it was last updated.
CHULA VISTA, Calif. -The Eastlake Little League team was welcomed home to Chula Vista with a huge party Thursday evening after being named U.S. Champions.
About 3,000 people attended the celebration at Sleep Train Amphitheatre to cheer on the all-star team.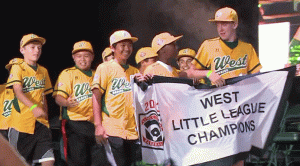 The team beat Connecticut in the finals becoming named the Little League World Series – US Champions.
A local radio station hosted the event, local cheerleaders revved up the crowd, and Chula Vista Mayor Cheryl Cox congratulated the team.
"It really puts Chula Vista on the map," said Mayor Cox.
Padres Hall of Famer Tony Gwynn also surprised the 12 boys on stage.
"I didn't know we were going to see him today," gushed Giancarlo Cortez.  "This is really special."
The team met with reporters backstage before the party took place, and all of them clearly are so humble and excited for the chance to share the spotlight.
"My goal was always to make it to World Series, and I made it there," said Kevin Bateman.  "It was my dream come true."
Some of the boys said they'd like to go on and become pro-baseball players one day and know it takes work hard to make it happen.
"I play several sports. I'm going see where life leads me," said Dominic Haley.
The young team's partying will continue when the Padres host a celebration for the team at Petco Park on September 7.