This is an archived article and the information in the article may be outdated. Please look at the time stamp on the story to see when it was last updated.
SPRING VALLEY, Calif. – Pancho Bio and his two sons have built a legacy of off-road success and have over 100 wins between the three of them.
Bio, 55, grew up in Ensanada, Mexico, the birthplace of the Baja 1000, known as the toughest, longest off-road race in North America.
"They used to let us out of school and that was always my dream," said Bio.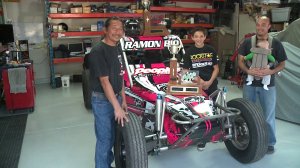 At age 23, he followed that dream, going on to win four Baja 1,000 titles.
His oldest son, 32 year-old Cisco Bio, bumped along the dusty back roads before he could even walk.
"It's a lot of fun. I think I was always with my dad anywhere – he went he'd take us with him I'd be going from on his lap to driving," said Cisco.  "I remember having my first race. No one wanted to drive with me because I was 14, so he rode with me."
His youngest, 15-year-old Ramon, is a Steele Canyon High School sophomore and also wanted to race just like his dad.
"I got hooked instantly," he said "I want to accomplish what my dad`s done, what my brother's done, maybe even more."
Cisco, a city police dispatcher, is Ramon's co-driver and the pair took fourth place in his first race at age of 12.
"With my brother, I feel more confident," he said.  "He's always watching over me."
"It's a family thing," said Pancho. "We are all in it, we all help to make it possible."
The Bios work on their cars in their home garage in Spring Valley under the name 'Team Peoples,' serving as the mechanics, drivers and moral support in the most exhilarating and trying of environments.
"You race on dunes, alongside cliffs, there`s oceans on the outside of the corner," said Cisco. "There are big rocks. In Mexico, there are always those people who build ditches and put refrigerators out on the course."
Soon, there may be a fourth Bio looking for adventure along with a first place finish – Cisco's infant son Alex.