This is an archived article and the information in the article may be outdated. Please look at the time stamp on the story to see when it was last updated.
EL CAJON, Calif. – Authorities blocked off several streets in El Cajon Monday evening after a car involved in a collision had suspicious materials inside it, officials said.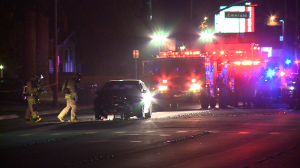 Heartland Fire Department responded to the crash around 7 p.m. on West Chase and South Johnson Avenue and the crew discovered Tannerite, an aluminum powder-based explosive used primarily as a target for firearms practice, in the back of the vehicle, a fire dispatcher said. Hazardous materials crews were called to the scene to dispose of the materials.
It is legal to own Tannerite, City of El Cajon spokeswoman Monica Zech said.
One of the drivers involved in the collision was transported to a local hospital.