This is an archived article and the information in the article may be outdated. Please look at the time stamp on the story to see when it was last updated.
SAN DIEGO – Travelers nationwide faced major delays as a giant storm moved over large portions of the Midwest and the East Coast.
Marialice Dunn was at San Diego International Airport waiting for her husband for more than three hours. She said his routine business trip to Texas turned into a nightmare.
"It was supposed to leave yesterday and they cancelled his flight," said Dunn. "Then, last night, he got a phone call also saying his flight for today got cancelled. And today, he called me and said he did get a flight, and it was supposed to be here at 5:30, and then it was 6:30, and now it's 7:30… and so we're praying."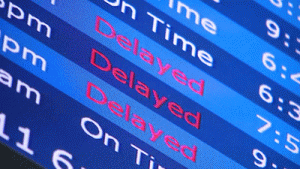 The storm mostly affected hub ports in snowy areas across the US, including New York, Chicago, Philadelphia and Dallas.
Despite having clear skies in San Diego, flyers could not escape the ripple effect. Many connecting flights into and out of Lindbergh Field were also delayed and cancelled.
The storm also affected international flights that were flying over the stormy weather in the East. Sherri Poole-Bennett said she was monitoring her daughter Cassidy's flight tracker from London for hours.
"I'm kind of sitting on pins and needles because what am I supposed to do? My baby's in the air," said Poole-Bennett.
After two hours of waiting, the Temecula resident finally reunited with Cassidy.
Meteorologists said the storm should calm down by Monday evening and travel plans to return to normal.
Airport officials recommend travelers t keep in constant contact with their airlines to be updated on flight statuses. Once they are instructed to go to the airport, they advise travelers to give themselves extra time to be safe.