This is an archived article and the information in the article may be outdated. Please look at the time stamp on the story to see when it was last updated.
SAN DIEGO—Earthquake safety is something all Southern Californians should think about and now being prepared is easier than ever.
Th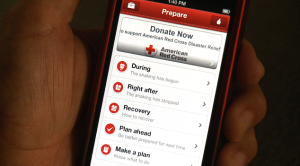 e big one is coming, but the big question is 'are you ready?'  If you don't know where to start when it comes to earthquake safety, there's an app for that.
The American Red Cross has a smart phone application that covers everything from getting ready to the right response.
"Smartphones are an integral part of so many people's lives right now and having that app where all of that information can be right at the palm of your hands is really a time saving effort," American Red Cross communications manager Courtney Pendleton said.
Once you've downloaded the app onto your device, you can go over what you should do during and right after an earthquake.
There's also a checklist where you can plan what your family will do in an emergency.