This is an archived article and the information in the article may be outdated. Please look at the time stamp on the story to see when it was last updated.
SAN DIEGO – A system of faults that runs from San Diego to Los Angeles could unleash a disastrous 7.3 magnitude earthquake, according to a study released this week.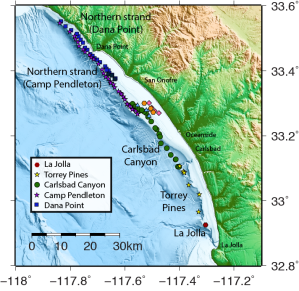 The study led by the Scripps Institution of Oceanography at the University of California focused on the Rose Canyon and Newport-Inglewood faults. Researchers discovered that the two faults, which had previously been considered separate, are actually one continuous fault that runs from Coronado, through Rose Canyon in University City, north to Seal Beach in Orange County and all the way through the Los Angeles basin.
The research team used two different methods to estimate the maximum earthquake that could be generated when the entire fault ruptured. Both methods showed that such a rupture could generate quakes between 6.7 and 7.3 magnitude. But even less powerful earthquakes could cause serious damage and loss of life, according to the study's lead author, Valerie Sahakian.
"This system is mostly offshore but never more than four miles from the San Diego, Orange County, and Los Angeles County coast," Sahakian said. "Even if you have a high 5- or low 6-magnitude earthquake, it can still have a major impact on those regions, which are some of the most densely populated in California."