This is an archived article and the information in the article may be outdated. Please look at the time stamp on the story to see when it was last updated.
SAN DIEGO – An early Thursday morning earthquake in eastern Orange County was felt in San Diego.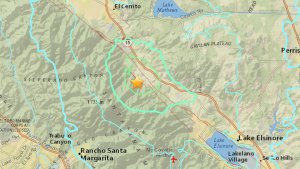 The quake struck about 8 miles northeast of Trabuco Canyon, located in the foothills of the Santa Ana Mountains, at 2:09 a.m., the United States Geological Survey reported.
The shaking was felt as far away as Lake Hughes, Barstow and San Diego, viewers told KTLA.
The quake was near the Elsinore fault but not on it, Dr. Lucy Jones tweeted. 
This morning's M4.0 near Trabuco Canyon is near Elsinore fault but not on it. Mechanism shows that it moved on an east-striking thrust fault. Many small quakes are on on small faults, too small to be mapped

— Dr. Lucy Jones (@DrLucyJones) January 25, 2018
Jeff P. from Corona said there was a loud rumbling followed by a huge jolt when the quake struck.
No damage or injuries were immediately reported.