This is an archived article and the information in the article may be outdated. Please look at the time stamp on the story to see when it was last updated.
SAN DIEGO – Earth Day celebrations in San Diego could be canceled this year because of  construction in Balboa Park.
After 23 years of sprawling celebrations, newly elected Mayor Bob Filner said the project to remove cars from Balboa Park's central Plaza de Panama will shut down part of the park, impacting the annual Earth Day festival.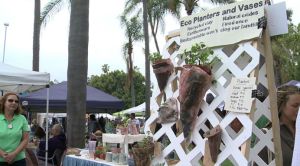 "There will be scaffolding and construction — someone could get hurt," Filner said.
A report prepared by the mayor's staff says the liability is simply too great.
"Earth Day is a very important event in the City of San Diego, and the City is making every effort to accommodate the event and at the same time provide a safe environment for attendees," Filner said.
Earth Fair organizers said if that is the case they won't be able to hold the festival.
Organizers from the Earth Fair said they are the ones holding the liability insurance for the festival.
"People can fall down and hurt themselves at any time, and the construction site won't even be active on the weekends," said Carolyn Chase.
Early this week, the mayor reconsidered his first decision and met with organizers for a second time. The meeting ended with the mayor saying he would "think about it."