This is an archived article and the information in the article may be outdated. Please look at the time stamp on the story to see when it was last updated.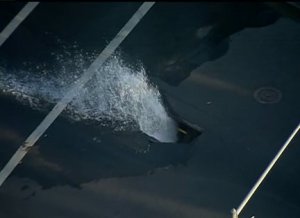 SAN DIEGO – City crews worked to fill a 4-by-6-foot sinkhole in Mission Valley caused when a plug at the end of a water line blew out, a city official said.

The sinkhole began developing about 6:45 a.m. near the intersection of Colusa and Gaines streets, and city crews shut off the water shortly after, according to Arian Collins of the city's Public Utilities Department.

No area businesses or residences lost water service because temporary water lines were being used in preparation for an upcoming project to replace aging pipes in the area, Collins said.
Colusa Street was closed in the area as crews worked to fill the hole, Collins said. According to Collins crews expected to have Colusa Street reopened by late afternoon.