This is an archived article and the information in the article may be outdated. Please look at the time stamp on the story to see when it was last updated.
OCEANSIDE, Calif. – A fire started in a wastebasket and spread through a garage damaged a vacant apartment in downtown Oceanside Sunday, a fire official said.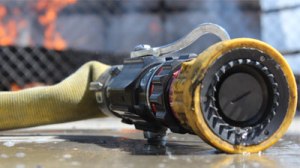 Multiple 911 callers reported the fire about 3:45 a.m., and firefighters finishing up at a medical call two couple blocks away arrived to find flames shooting out of the building in an alley behind 415 North Freeman Street, according to Battalion Chief Pete Lawrence of the Oceanside Fire Department.

Fire crews kept the blaze from damaging the property's primary residence, which was for sale, and adjacent properties, Lawrence said.

About 20 firefighters from the Oceanside and Carlsbad fire departments had the fire under control within about 15 minutes, but the garage and its upstairs apartment sustained significant fire and smoke damage, Lawrence said.
The damage to the unoccupied structure was estimated at $30,000.
A Oceanside Fire Department investigator was summoned to assist with determining the cause and origin of the fire. After digging through the rubble, it was determined the fire started in a plastic wastebasket in the garage, but the material that ignited could not be immediately determined because of the extensive damage to the area, according to Lawrence.
Four fire engines, a ladder truck, an ambulance and three chief officers responded to the scene. San Diego Gas & Electric sent a crew to make electrical lines safe, Lawrence said.