This is an archived article and the information in the article may be outdated. Please look at the time stamp on the story to see when it was last updated.
SAN YSIDRO, Calif. – A six-year-old boy was recovering from head injuries Tuesday after the car his family was driving in was hit by an alleged drunk driver, who took off after the crash in San Ysidro, according to a family member.
Lennox was with his mom and dad coming home from Disneyland. His parents had just bought him a milkshake at In-N-Out and were a block from their home.
According to his uncle on a GoFundMe page, Lennox was in the rear passenger seat when a truck "came flying around the corner, wheels squealing and slammed into them. They went through a guardrail and stopped facing the opposite direction."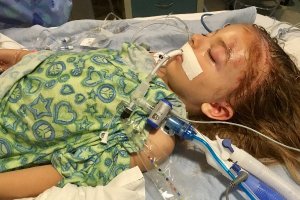 Lennox suffered serious head injuries and had a surgery, according to his uncle. The boy's parents suffered minor injuries.
"Right now, he has a lot of swelling and can't open either of his eyes so he's scared about why he can't see," his father Ben Lake told FOX5 while holding back tears. "I just really care about bringing him home and making sure he's happy again."
Border Patrol agents came upon the crash at the intersection of Camino De La Plaza and Dairy Mart Road around 11:30 p.m. Saturday, found multiple victims and called local authorities.
An investigation determined the hit-and-run suspect was driving a Chevrolet pickup truck. Border Patrol agents found a damaged vehicle matching the description at Vista Lane and Corte Amalia in San Ysidro about a half hour later.
San Diego police arrested the driver, who was suspected of driving under the influence and leaving a crash scene with injured people. An Immigration and Customs Enforcement official told FOX 5, the driver, identified as Constantino Banda-Acosta, was a Mexican national who has been deported 15 times over the course of 15 years.
"But those are just numbers to a man who only wants to see his son healthy again. It's tough to know somewhere that the system is breaking down but I'm really just trying to focus on Lennox coming home and making him happy. [I hope] justice does their job and things work out the right way," said Lake.
Agents arrested the passenger and transported him to a Border Patrol station and processed him for removal proceedings, according to Border Patrol officials.
Banda pleaded not guilty Wednesday to charges, including DUI, hit-and-run crash resulting in injuries and driving without a license. If he's found guilty, Banda faces seven years in prison. His bail was set at $230,000.
Lennox's uncle set up a GoFundMe page to help pay for medical bills and a replacement car for the family.